The Best Driveway Ramp – Kerby
The Best Driveway Ramp that's super-strong, simple & effective – Meet Kerby™, the best looking Aluminium Fixed Ramp.

The Best Driveway Ramp (KERBY™) is the best way to stop your wheels going out of alignment!
The Best Driveway Ramp (KERBY™) was designed right here in Rolleston. We had 'had enough' of that "bump" every time he went in or out of our driveway which kept destroying our wheel alignment each month, therefor making our car steer badly and our tyres wear out faster. "Enough!" we said, let's design the best Aluminium Fixed Ramp we can imagine, so we did.
The Best Driveway Ramp (KERBY™) is a simple and effective solution to the problem of the deep or shallow gutters in new subdivisions, the ramp bolts into the gutter and lets the water flow underneath.
The Best Access Ramp is the solution!
The Best Driveway Ramp (KERBY™) is a super-strong Aluminium Fixed Ramp that fixes into the gutter area with 10mm sleeve anchors (Dynabolts), or sometimes concrete screws, to enable a superior smoother, safer transition over the curb/gutter. So no more bumping, no more grinding the front off you and your friends cars, no more bouncing the trailer over the curb, and no more expensive wheel alignments! Get in off the road faster, more safely and quieter with confidence. The Best Driveway Ramp (KERBY™) is superior to tread-plate Aluminium folded ramps that can rust and bend. Kerby, The Best Driveway Ramps are in my opinion the best looking Aluminium Fixed Ramp option and come in 3.0, 2.0 & 1.0 meter DIY lengths. Other lengths to order.
NB: SMALLER OR CUSTOM-CUT LENGTHS CAN BE PURCHASED TO MAKE UP THE BALANCE OF THE WIDTH OF THE DRIVEWAY ENTRANCE BUT GENERALLY COME IN INCREMENTS OF 1M or 1.5M LENGTHS TO BEST SUIT CUTTING THE STANDARD 4M FULL LENGTHS DOWN AS TO NOT HAVE WASTAGE.
We have spoken to the Selwyn Council regarding these ramps and at the time they appear to have no issues as long as it doesn't prevent them performing maintenance on the gutter (as in covering a manhole or drain).
THE DIY PRICE DOES NOT INCLUDE INSTALLATION AS THIS CAN BE DONE IN MANY WAYS AND IS A BIT OF A VARIABLE DEPENDING WHERE YOU LIVE*. PLEASE SEE SPECS & PRICING BELOW.
For viewing the product in situation there are samples in West Melton, Prebbleton and Rolleston.
For DIY, Contact Clint on clint@kerby.nz or txt/ring 021 1144014 for more information.
Car bottoming out?
These heavy duty Aluminium extrusion driveway ramps, gutter ramps, curb ramps or kerb ramps or whatever you want to call them are designed to solve many problems, like eliminating 'the bump' as you drive in and out, stopping trailer noise, and saving your expensive wheel alignment, in turn saving your tyres. Council compliant but you need to double-check with the developer of your subdivision as there may be covenants etc.
Why risk damaging your car every time you pull in or out of your driveway?
Stop bottoming out and making bang noises. Fill the gap between your driveway and the street for a smooth easy speedy and safe entry and exit with KERBY™ – the best driveway ramp based in Rolleston Christchurch, NZ
Contact Clint on clint@kerby.nz or txt/ring 021 1144014 for more information.
The Kerby is fantastic thanks, sorted out the problem and is rock solid. My neighbour is a builder and saw it.

 

He has a client who has the same problem so hopefully you get another order.

Install was straight forward but the cordless drill could not get past the large pebble aggregate in the concrete. I got my hand on a 240V with hammer function and even that struggled. I eventually got through by using a center punch to crack the pebble it was stuck on.

Mainfreight had excellent customer service for the delivery too.Warrick, Pierce Road, Auckland - October 2021
Hi Clint,
Thanks for putting Kerby across our driveway. It has made a heck of a difference to the way our cars move up and down over the kerb. So much smoother. Thanks, should have had something like this years ago. Thanks, Doug and Denise.62 Strauss Drive, Rolleston - September 2021
Been testing it out this afternoon, great product, works well, vey nicely installed, happy customer, thanks again Clint.35 Beaumont, Rolleston - June 2021
Fantastic, better than expected. I'll be happy to recommend Kerby to anyone who asks. Very well installed too I might add. Thank you.50 Strauss Drive, Rolleston - May 2021
Hover to zoom | Click to enlarge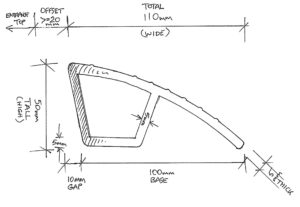 Viewing samples | Installation | Current pricing (subject to change) | Supply NZ-WIDE
Contact us today before the price of Aluminium goes up again!